Award-winning humanoid robot project at SuperShop
---
Humanoid robot project in the retail sector? It may be surprising. However, our partner, SuperShop aims to increase its visibility with a humanoid robot called Super Pepper. It was developed by Netlife Robotics. The goal is to build brand awareness and motivate customers to use their SuperShop card.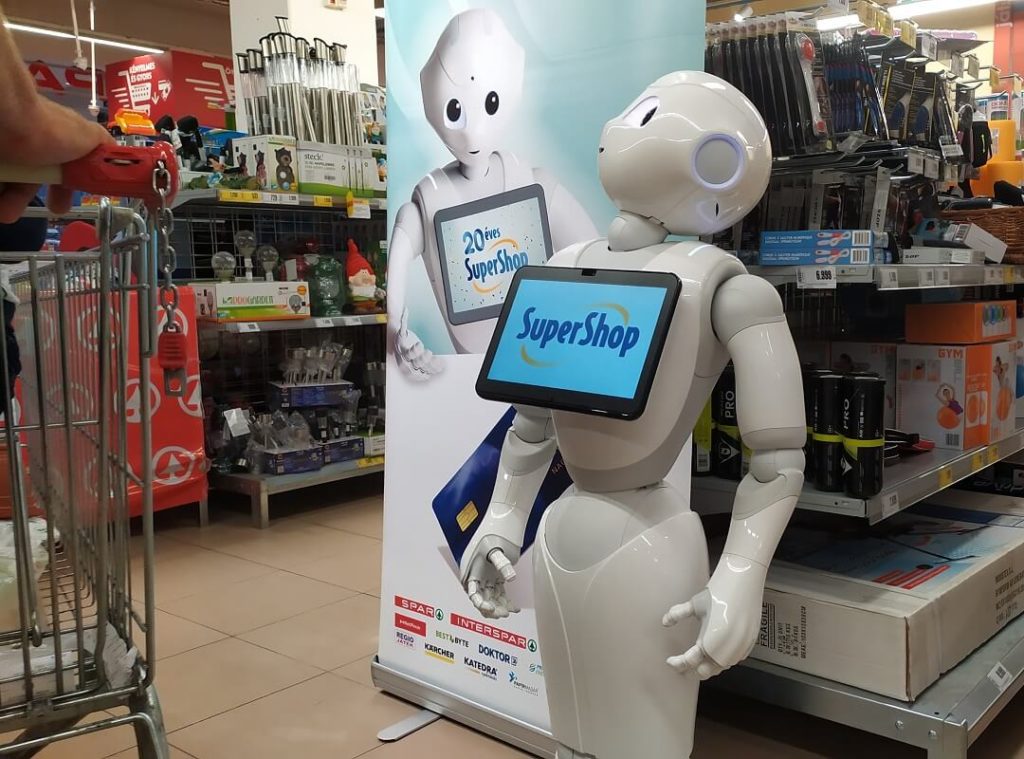 About the SuperShop
SuperShop Kft. (Ltd.) is the largest multi-partner loyalty program in Hungary. Consumers are happy to use the card during shopping. Their main target group includes mothers aged between 35 and 50. They buy at high value and are very enthusiastic. However, a survey revealed that a little group of shoppers forget to use their cards. Cashiers don't necessarily ask for it either.
The marketing team of SuperShop is made up of extremely ambitious professionals. Their most important tool is word of mouth. That's why it is so important to be credible and innovative in the eyes of the customers.
Firstly, they had to increase visibility and remind customers of card use. As a result, they needed a brand new, special marketing solution. It is also important, that it can reflect the "personality" of the SuperShop. This corresponds to the archetype of the mother, who is caring, helpful and kind.
Why a humanoid robot?
There are several solutions to this problem. The company already uses online interfaces and is also present on social media. On the other hand, competitors also use these tools.
In a sales area, digital advertising is an option. A kiosk or even a tablet can be set out for customers. But, these are no longer so surprising. As a result, these remain unnoticed. In other words, not triggering the "aha" moment.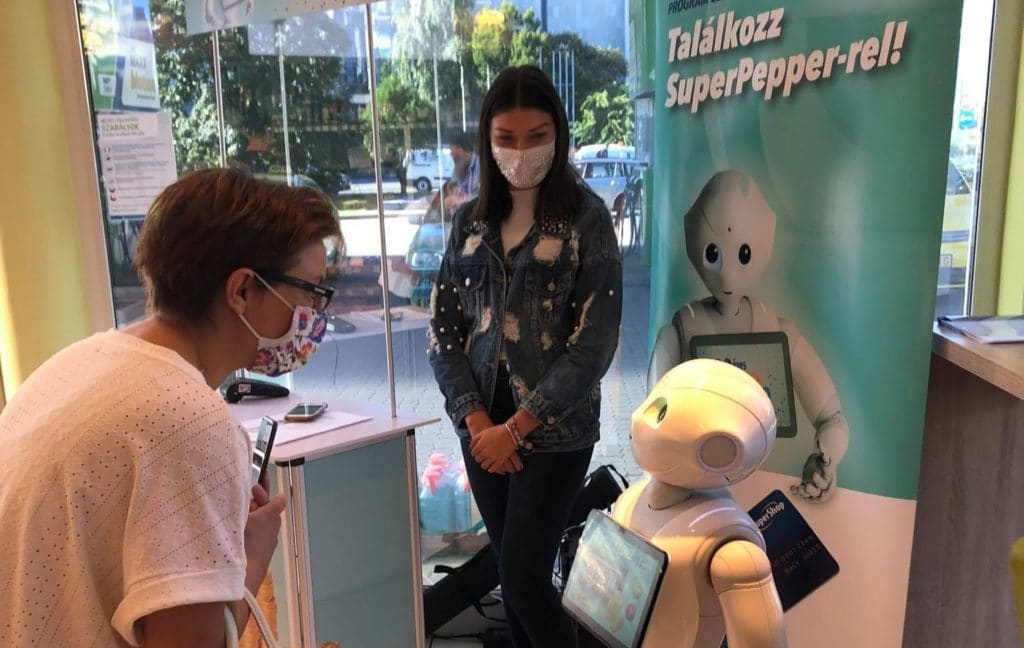 A humanoid robot can evoke a stronger and longer-lasting memory during the shopping process than traditional POS devices.
The marketing manager of SuperShop Tamás Csongovai said that he first met Pepper in an Austrian mall. Meanwhile, he was shopping, the humanoid robot showed information on its tablet. It also greeted new customers. Subsequently, they decided to motivate their partners to start using Pepper robot in their stores (partners are companies, stores or petrol stations where you can use SuperShop loyalty card during shopping).
Not the Austrian robot is the only one used in retail. There are many Pepper robots deployed in Europe. Get to know some other European examples!
International examples
Pepper robot has been deployed in several retail stores. Due to the coronavirus pandemic, Softbank Robotics even developed a mask detection algorithm. With this software, the robot is able to recognize if the customer is wearing a mask. The robot is a safe and contactless solution, several businesses started using Pepper because of these.
Sonae Sierra's retail humanoid robot project
Sonae Siera is an international real estate company, they have properties in South-America, North-Africa, Asia and all across Europe. In their shopping centre named Colombo they started to use Pepper robot this summer. The main aim of the integration is to enhance the customer experience. It was also very important to use a safe, contactless solution. That's why they chose Pepper.
Italian textile brand 1177 deployed Pepper
1177 Italian textile brand was founded in 2014. They sell men, women, children and sports clothing as well. 1177 has an innovative, futuristic brand image that they also represent in their clothes' style. That's why using Pepper robot wasn't a question!
BMW urban store and Pepper robot
BMW car brand opened its first urban store in the United Kingdom in April 2018. They would like to increase customer experience by using Pepper robot. Experience is crucial because of the fierce competition in this sector. The robot can interact with customers, give them information in connection with the products and the shop. It also collects user data and helps the sales team.
A project like these require professionals whose main activity was humanoid robotics. Experts, who also understood artificial intelligence and develop neural networks.
About the humanoid robot project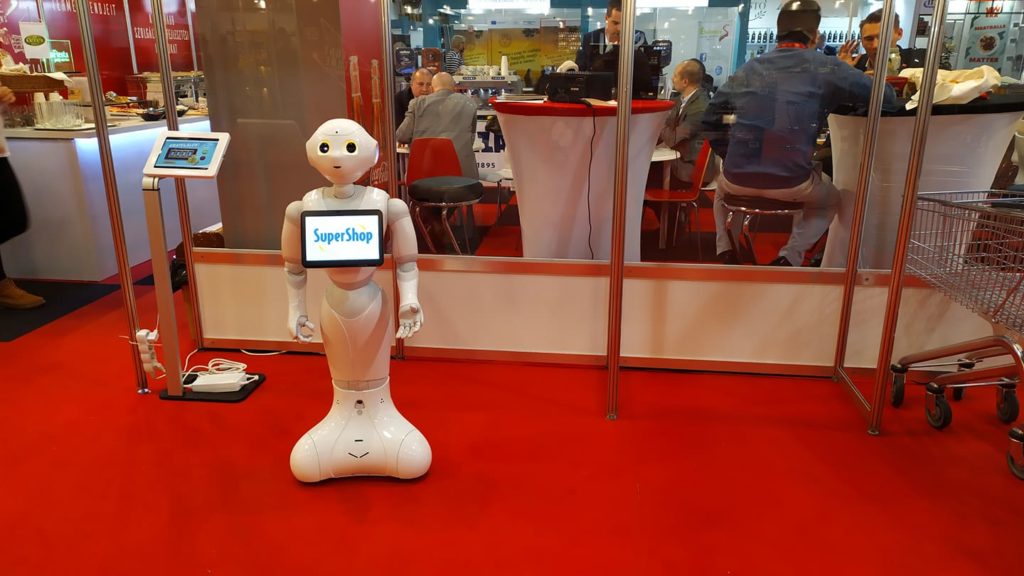 Pepper's Hungarian reseller is the Netlife Robotics. We do not only resell but also develop software. We created a Hungarian voicebot, a UI named Robot Master and other software for the robot, too. On Robot Master, our partners can read and modify the robot's marketing contents. As a result, the robot is together with this software make whole.
The cooperation between the two companies started in August 2019. The purpose was to create a human-robot interface that could also be used in retail. The robot works with the help of artificial intelligence. To clarify, its neural network learns constantly from the dialogues that utter.
Web contents are also available on its tablet. The consumers can view and browse through them. So, this complements verbal communication. SuperShop runs a prize competition on the tablet. This is a web application, the robot can start the game if the user requests it.
We can continuously develop the neural network. Therefore, the project after the handover still not over. We can also expand the knowledge base of the system, according to the needs of the partner.
Special Innovation Award for the humanoid robot project
The SuperShop team is also making a live demo for its partners, as part of a roadshow. SuperShop takes part not only in private corporate events but also in trade shows, such as Sirha Budapest in February. The reception was worth the effort. SuperShop customers have been extremely appreciative of the robot. In addition, the company received a Special Innovation Award.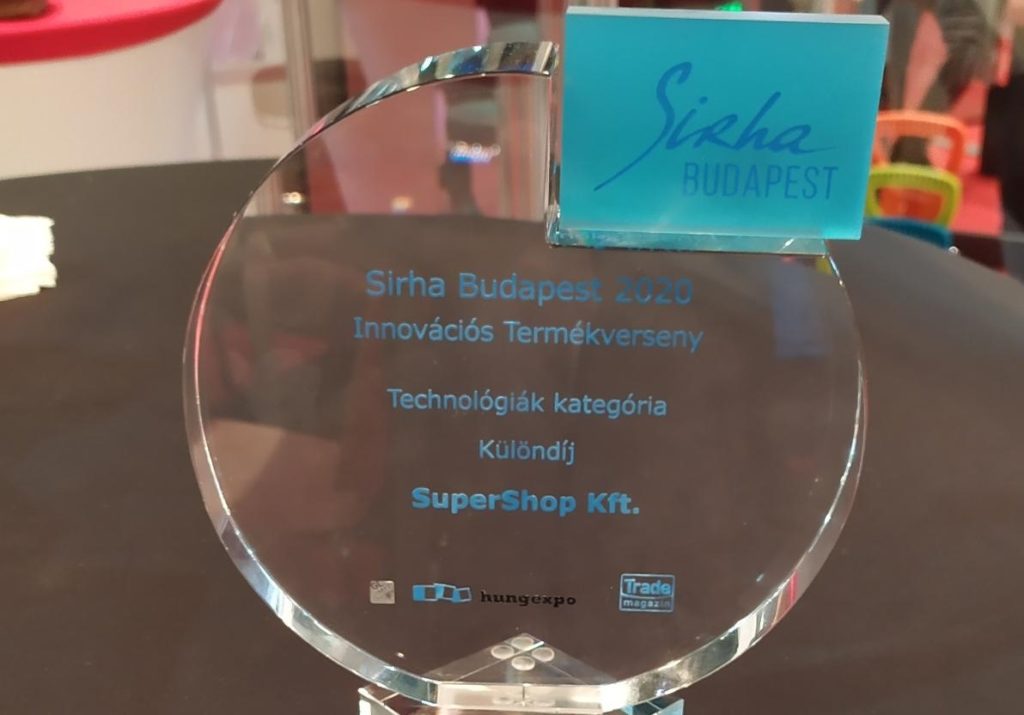 As a conclusion: use Pepper robot!
Using Pepper robot is a perfect choice. There are multiple international use cases that show how can businesses enhance customer satisfaction using the robot. Pepper can interact with customers, give them information about products and special offers. It collects user data and also helps the sales team. Brands like BMW, 1177, SuperShop Hungary, Sonae Sierra already use Pepper robot.
Are you also interested in using robotics and AI? Then, contact us!