Artificial intelligence in interpretation
This year, Eötvös Loránd University organized an irregular translation conference, the Online Translation Days. One of our colleagues also attended it as her original qualification is translator.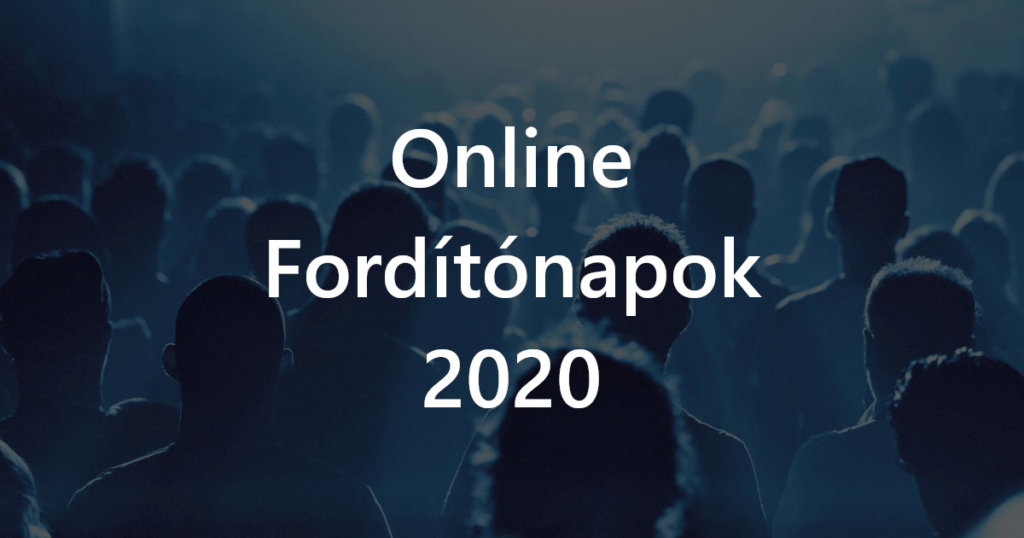 But why is the conference unusual? Because it's online. The preparations began even before the pandemic, and even the organizers were surprised that the online version became so up to date too. Lots of interesting topics were lined up from film translation to artificial intelligence. There was no reason for boredom and the interface was also quite professional.
The humor of computer…
Like so many things, translation should be automated, too. But there haven't been any breakthroughs. The machine is not omnipotent, can't translate creatively and smoothly yet. So human factor is still needed. Although efforts are made to use programs to make a film dubbing and subtitles of films, or translation of a novel. However, we not necessarily appreciate the humor of a computer, but its help. The use of a so-called CAT tool (Computer Assisted Translation tool) is already common among translators. There are several types of such software, like the Hungarian development memoQ, which is not only in Hungary popular.
Translations from novel to film
The interesting thing about the conference this year is that not only professionals but also layman can find interesting presentations. The presentations were understandable, even two memoQ trainings took place, which must be useful for both novice and advanced translators. Most of the speakers gave an insight into their own job. Translations mostly come across ordinary people in films and books. Every person, who has ever watched a dubbed film, has heard the name of Eszter Pataricza. She told a lot of behind-the-scenes secrets about film translation and, for example, how she expands her knowledge. Two translators, Ádám Nádasdy and Zoltán Pék, also revealed a couple of interesting things about novel translation.
For a long time, the Hungarians thought that they are safe with their language, because it's so different from the others and there would never or only in the far future be an algorithm for it. No matter what, Hungarian translators will always have a job. But in 2017, translation studies did a complete 180. Neural Machine Translation (NMT) and artificial intelligence (AI) occurred. The Hungarian word order is flexible, not like in other languages. Machine translation was mostly "machine-like" because it insisted on the word order of the source language. On the other hand, AI can break away from the original word order, so it makes far less word order and conjugation / agreement mistake than its predecessors. AI is getting even on that field more and more popular. And what about interpreting?
Artificial intelligence in interpretation
Technology has already changed this sector, too. Simultaneous interpreter Dr. Kata Hajós (Lex Expert Kft.), who has been on this the field for 20 years and is responsible for the CASSIS project, spoke about the past, the present and the future of interpreting. Kata Hajós (A Lex Expert Kft.) said that interpreters had so far no help except for their memories, notebooks and (in the past few years) the internet. Now using AI technology should help them within the CASSIS-project. But how? With the combination of AI, CAT tools and other recently developed targeted technical innovations in the field of languistic mediation.
About CASSIS
There are many types of interpreting, but CASSIS (Computer ASSisted Interpretation System) especially helps the simultaneous interpreters. Simultaneous interpreters are those who perform linguistic mediation during the spoken source language text. How does the service work? It runs on all kind of gadgets and is cloud based. It transcribes the spoken text, filters noise out, and places a terminology database (glossary) next to the text to the transcribed text (either the glossary of translator or one from the cloud). This way, the interpreter sees the source text and the glossary at the same time. Plus, you have the option of sight-read (oral translation of written text), if you get lost in details. Moreover, it recognizes the source language. For example, if you know that the speaker will alternate English and French, the system observes the switch and works according to that, but first, you must select the language(s), in which you will work.
Can Pepper became a protocol droid?
All in all, the Online Translation Days were instructive. The technique has developed a lot in this field as well and helps translators and interpreters a lot. I eagerly await the first meeting with a real C-3PO who speaks and broadcasts in over 7 million languages. Is it possible that Pepper will soon become a protocol droid?
Would you like to know more about our projects?
References: